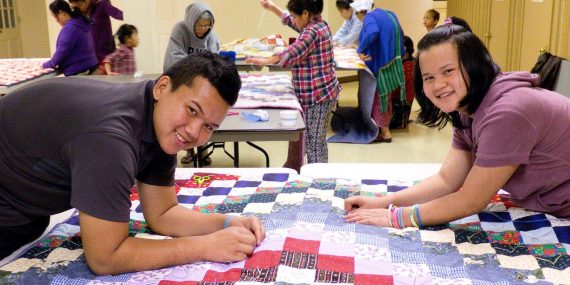 There are many ways to get involved at Habecker!
The Manor Sewing Circle meets in the church basement on the first Monday evening of each month.  Tasks include putting together school kits, knotting comforters and quilting.  Our sewing circle was recently featured on a website of "newcomer art groups" in North America!
Childcare Team
Volunteers are needed each Sunday morning to play with toddler-age children of Karen refugee church members during the worship service 10 – 11:30 am. Children understand both English and Karen and would benefit from age-appropriate play and learning activities. Clearances required. Hoping for enough volunteers to schedule once a month.
Volunteers are invited to help teach
Sunday
school
for grades K-3 and 4-8, mostly Karen refugees.  In addition to their native language of Karen, the children understand English fairly well. Volunteers can rotate by month or certain weeks of the month. Clearances required.
Other Ways
Consider other ways to share your gifts to bless the body of Christ:
leading singing
homework helpers
teaching ESL
driving people to appointments, etc
Contact Chris or Dawn at [email protected] for more information.