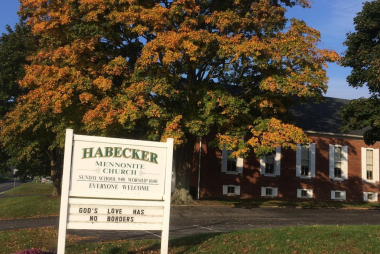 Habecker Mennonite Church was built on a plot of land purchased from Thomas and Richard Penn, sons of William Penn, in 1761, a number of years after the Habeckers immigrated to America from Switzerland. The original deed states that the land was to be used by the Anabaptists for a place of worship, a school and a burial ground.
The first church structure was a log cabin with no lights or heat and was replaced with a brick building in 1820. This plot on the east side of Forry Road was low and too wet for its intended use. The present house of worship was built in 1898, on a plot of land owned by a neighboring farmer to the west of the original Penn's plot. The first words spoken at the dedication in 1898 were, "Peace to this house."
Until the latter part of 1945 the church family met every other week for Sunday worship and the ministry was shared with Masonville and Mountville congregations. However, in the early 1960's, each of the three congregations obtained a minister ordained specifically for that congregation. Over the years many changes have taken place, some welcomed and some difficult. However, there was always that faithful core of believers who sought peace from the Lord and were happy to welcome new members as well as visitors. Habecker church was been blessed by their faithfulness, and God's steadfast love continues to bless and guide the church community today.